Fluffy and light white cake with pockets of sweet cherry pie filling baked within and topped with a simple glaze make a perfect cherry brunch cake. My husband and kids love this simple cake and would devour it in a single session if allowed!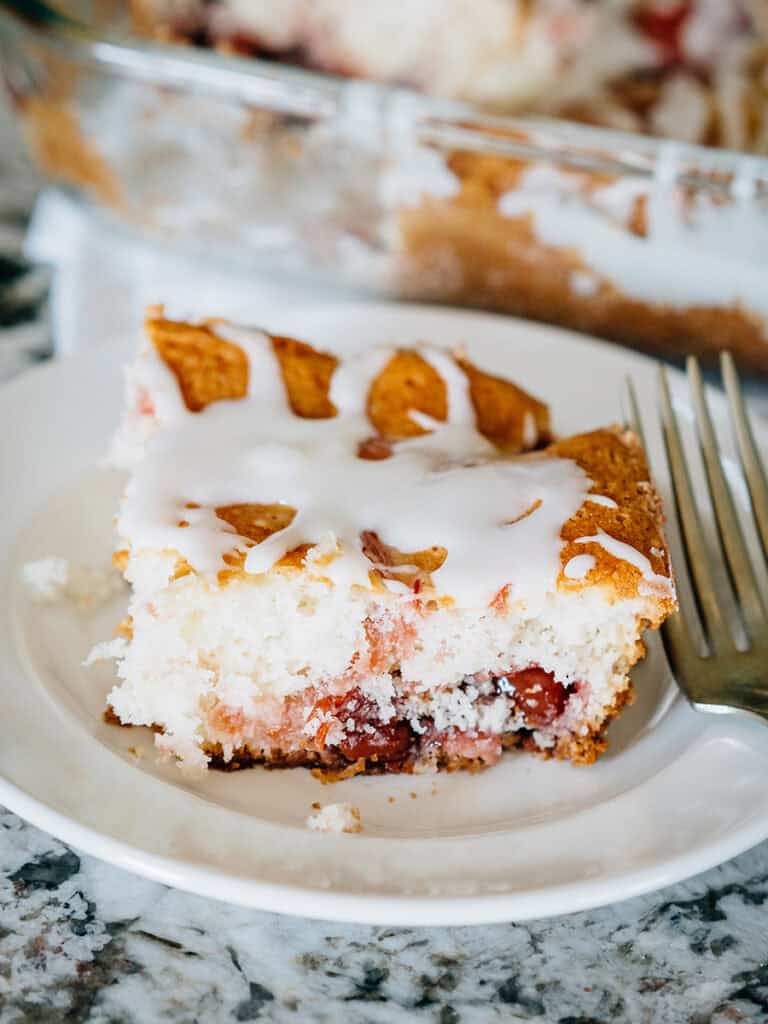 This cake is literally so good. It's light giving you the feel of guiltlessness but still so flavorful and sweet. Plus the combination of fluffy cake to creamy pie filling is the perfect blend of simple and savory. Five out of five stars here! We love this cake recipe and you will too!
How to make a Simple Brunch Cake
Flour and grease your cake pan and then make your cake batter according to box directions HOWEVER cut the water ingredient in half. If the recipe calls for 1 cup of water, only do 1/2 cup of water. We need less liquid because we are adding the pie filling. Sorry for the math! Pour your then prepared and modified cake batter into a 9×13-inch cake pan. Spread it evenly!
Now take your cherry pie filling and dollop it on top of the batter. It will seem like a lot of filling but trust me. It's perfect! Then take a knife and drag it through the batter up and down length and width-wise. This will swirl our pie filling into the batter.
Next, bake that cake! I always bake the cake per box instruction and go from there making sure it looks set and the top is browning. Stick a toothpick in a cake batter area and make sure that your toothpick comes out mostly clean. We added a bunch of moisture to this recipe so it will not come out perfectly clean unless over-baked. Expect the cake to fall a little as it cools.
Lastly, to glaze or not to glaze. We eat this simple cherry brunch cake both ways and LOVE it! I love to do a simple glaze of powdered sugar, milk, and vanilla extract like this one found here however sometimes I am lazy or have no time and I just sprinkle the cake with a bit of powdered sugar and call it a day. Then other times we eat this cake up so fast that we add nothing extra! Your call.
Simple Brunch Ideas
Need more sweets? This Lemon Poppy Seed Bread recipe leaves you with a refreshing and light lemon-flavored bread that's perfectly sweet. Plus it's a quick and easy option for a brunch date or extra lunch side.
Want to do something more than just a pancake? Light, airy, and with a touch of sweetness, these easy crepes are not only easy but delicious too. Plus, since you prep your batter and berries the night before, you can be ready to make warm crepes at any moment!
We love a good casserole! The savory taste of ground breakfast sausage, onions, and cheese sprinkled between layers of buttered bread makes this breakfast casserole recipe simply the best! Like a breakfast sandwich in casserole form, this delicious dish has been a favorite in our house for years.
Cherry Brunch Cake
Fluffy and light white cake with pockets of sweet cherry pie filling baked within and topped with a simple glaze make a perfect cherry brunch cake.
Ingredients
21

ounces

cherry pie filling

1 can of pie filling
Box Cake Mix Ingredients – make per box instructions execpt water
water

only use HALF!

oil

egg whites
Glaze- if desired
1½

cups

powdered sugar

2

tablespoons

milk

½

teaspoons

vanilla extract
Instructions
Make the cake batter as instructed on the box mix HOWEVER only use HALF of the water it calls for. For example, if the directions say 1 cup of water, only use 1/2 cup of water. Pour cake mix into a 9×13-inch floured and grease cake pan. Spread evenly.

Dollop the cherry pie filling on top of the batter. Drag a knife through the pie filling and batter both length and width-wise creating a swirled look.

Bake the cake according to the box directions. Make sure the cake is set and the top is browning. A toothpick inserted into a cake batter section should come out mostly clean when the clean is done. The cake my fall a little once cooled.

Once cooled, glaze the cake or sprinkle it with powdered sugar. To make a simple glaze start with 1½ cups powdered sugar, ½ teaspoon of vanilla extract, and 2 tablespoons of whole milk. Whisk the ingredients together. If needed add a bit more milk to thin out the glaze. Only add one tablespoon of milk at a time. Drizzle over the cake with a spoon.